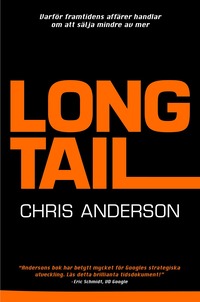 Long tail (Chris Anderson )
Vad händer egentligen när allt i världen blir tillgängligt för alla? När det samlade värdet av miljontals produkter som endast har sålt några enstaka exemplar är detsamma eller till och med överstiger värdet av de få produkter som sålt i miljoner exemplar? När några ungar kan spela in en skiva utan att ha några vinstintressen och få samma spridning som en stor professionell medieorganisation?

I Long Tail visar Chris Anderson, chefredaktör på tidningen Wired, hur vi nått hit och vilka möjligheter som finns. "Även om vi fortfarande söker efter hits har de inte samma genomslag som tidigare. Vad vill konsumenterna ha istället? Inget särskilt. Deras preferenser sprids med vinden in i tusentals olika nischer", skriver han och förklarar att framtidens handel kommer att koncentreras på det som vi tidigare betraktat som felsatsningar. Det är inte längre att bli etta på Amazons bästsäljarlista som är affärsidén, utan att vara en del av den ändlösa svansen.

"Andersons bok har betytt mycket för Googles strategiska utveckling. Läs detta briljanta tidsdokument!" - Eric Schmidt, VD Google

http://www.longtail.com/
------------------------------------------------------------------------------------------------

Wikinomics: How Mass Collaboration Changes Everything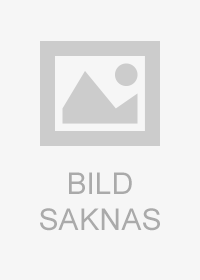 av Tapscott, Don, Williams, Anthony D.
In the last few years, traditional collaboration—in a meeting room, a conference call, even a convention center—has been superceded by collaborations on an astronomical scale.
Today, encyclopedias, jetliners, operating systems, mutual funds, and many other items are being created by teams numbering in the thousands or even millions. While some leaders fear the heaving growth of these massive online communities, Wikinomics explains how to prosper in a world where new communications technologies are democratizing the creation of value. Anyone who wants to understand the major forces revolutionizing business today should consider Wikinomics their survival kit.

-------------------------------------------------------------------------------------------------

The Google Story (pågående läsning)

av David A. Vise
Based on research and access to the founders of Google, an innovation since the creation of the internet, this book takes you inside the creation and growth of a company that has transformed how we access information. Readers learn about the amazing network of thousands of computers that store over four billion web documents.